Address: 80 meters south of Peony Automobile Group, Leyu Town, Zhangjiagang City
phone:86-0512-58662585
Fax:86-0512-58660959
Contact:Mr Mao
Mobile phone:013906246830
E-mail:leyujd@163.com
website:www.leyujd.com
PAUT/AUTSeries Suspension Scraper Unloading Automatic Centrifuge
time:2019-3-22 14:45:47 Popularity:681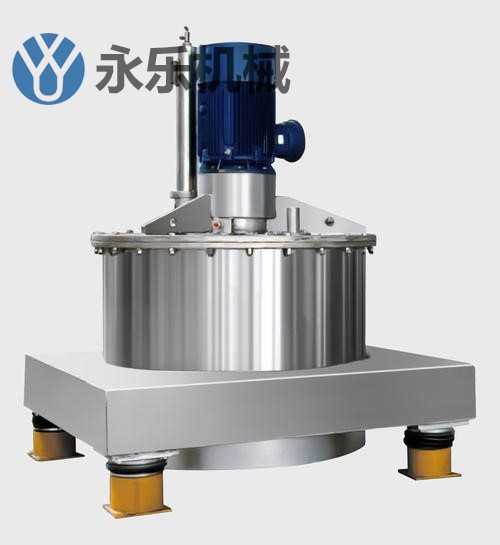 Standard manufacturing

Structure: The shell is equipped with a flip cover and a feeding tube, a washing tube, a sight glass, an exhaust port, a manhole, and an illumination hole; the sealed structure, the drum and the outer casing, the flip cover and the like are made of stainless steel material (SUS304). The base is made of casting and the surface is lined with stainless steel. The drum, the inner and outer surfaces of the outer casing, and the surface of the exposed parts of the machine are polished.
All fasteners are stainless steel:
Adopt PLC control.
Transmission and braking: ordinary motor (or explosion-proof motor) + inverter + energy brake.
Pneumatic system.
The PAUT uses a flat structure and a liquid damping damper.
Optional configuration
Online cleaning system.
Nitrogen protection system.
Electromechanical layer control.
Touch screen control.
Hydraulic action system.
Gas assisted scraper.
According to the anti-corrosion requirements of the materials separated by the user, the corresponding materials (SUS304, 316, 316L, 321, etc.) or titanium (TA), or surface lining PE, halar, etc. are used.
Vibration protection
On-site explosion-proof button
Transmission and braking: explosion-proof motor + inverter + energy brake.
main feature

1. Flat structure and liquid damping vibration damping technology: using flat plate structure, the operation is more stable and the operation is more convenient; the application of liquid damping vibration damping technology makes the centrifuge vibration isolation and vibration damping performance superior; no basic installation form, Easy to install and overhaul the machine.
2. The casing and the base adopt a full-bearing casing structure with flat steel connection, which makes the structure simpler and the whole machine more compact.
3. The bearing support length is large and the bearing performance is better; the bearing seat is independent, with upper and lower oil injection passages, which is convenient for operation and maintenance.
4. The motor is directly connected with the main shaft, and there is no transmission belt, which completely avoids the pollution of the dust by the dust.
5. The lower bearing end cover seal adopts double seal to ensure the sealing effect. The main shaft adopts new anti-corrosion technology to protect the main shaft from corrosion.
6. Configure gas-assisted scraper and gas reverse; medium device can effectively eliminate residual filter cake layer to facilitate filter cloth regeneration and improve filtration effect.
7. On-line cleaning and nitrogen explosion-proof device applications can achieve online cleaning requirements and applications in explosion-proof applications.
8. Automated human-machine interface control: As with the LGZ model, the configuration of automation and safety protection devices has improved the automation and safety of the machine.
9. Action component drive form: There are two ways of hydraulic and pneumatic for customers to choose, to meet the requirements of different occasions.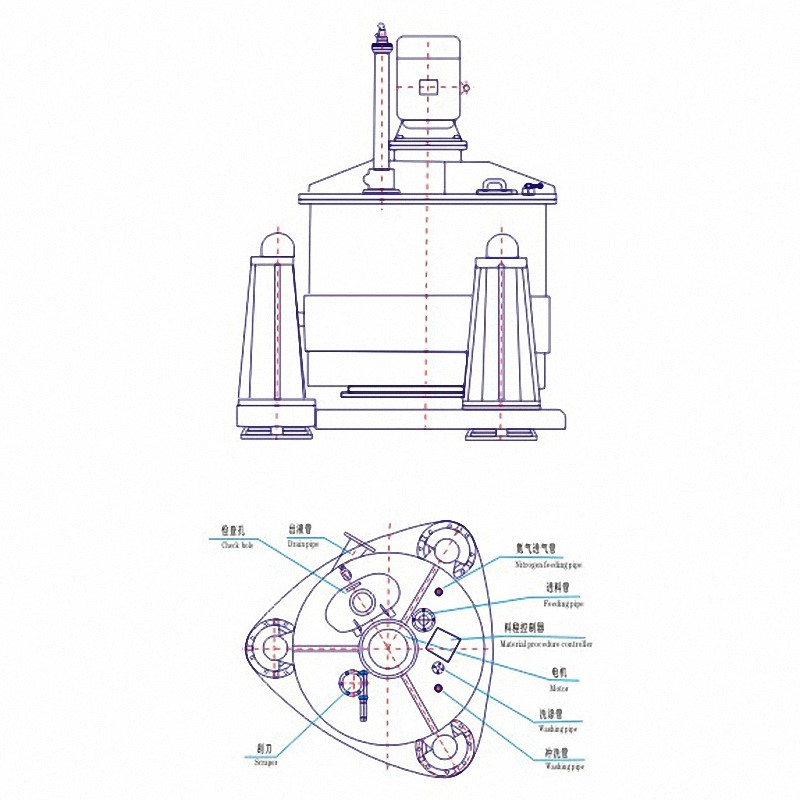 The main technical parameters